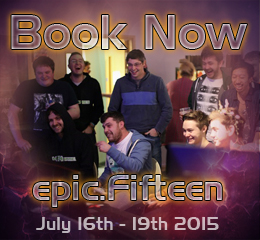 Next Event

epic.FOURTEEN

Date

19th - 22nd Feb 2015

Venue

Kettering Conference Centre

Capacity

400

Paid

93

Spaces

307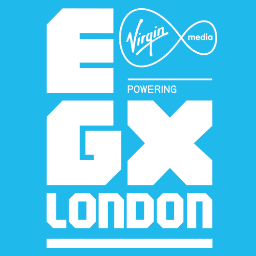 We are very excited to announce that following on from our popular stand at EGX Rezzed earlier in the year, the EGX team has invited us back for the UK's biggest gaming show, EGX London (formerly Eurogamer Expo).
We've teamed up with EGX to offer a weekend of Dota2 action, giving new players the opportunity to try out the game and hopefully promote the UK Dota community as well as offering a feature tournament with online heats to give the top 4 teams the opportunity to play in the heart of one of the UK's biggest gaming events at Earl's Court next month for some cool prizes (to be announced shortly).
For more details about the online tournament, giving chance for the top 4 teams to win tickets to EGX on Sunday 28th September (sold out to the general public), visit our tournament minisite. Tournament signups close on Tuesday 26th August, so make sure you sign up now!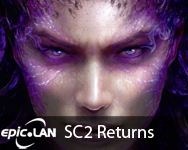 We thought epic.THIRTEEN was going to be the last we saw of the SC2 community for a while, but there was such great support and we've had so many people asking us to keep SC2 on the lineup, we're pleased to confirm that Starcraft 2 will be back for epic.FOURTEEN in February 2015 as one of our official eSports tournaments.
epic.FOURTEEN takes place from 19-22nd February 2015 at the Kettering Conference Centre. Tickets are just £55 until the end of September.
We look forward to welcoming the SC2 community back to our next event!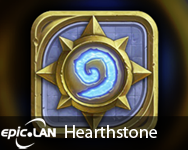 With the huge and growing popularity of the Blizzard digital card-game, Hearthstone, we've decided to announce it as the first of our main epic.FOURTEEN eSports tournaments.
It's likely that we'll run the matches later on in the evenings once more, so people can still take part in other tournaments during the event.
We'll be confirming more of our tournaments over the coming weeks, at this stage we're still looking for sponsorship for epic.FOURTEEN, so we'll be confirming the eSports titles with our base prize pool, and then we'll announce any increases should any partners come on board at a later date.
Unfortunately due to lack of key team members on the original dates for elite13, we've had to move the event by a couple of weeks.
As it's a short notice change for the venue, which gets booked out many months in advance, we've also had to change the event to a Saturday - Monday as there is another booking on the Friday evening, the general consensus on the forums was that this is better than no elite at all until December, so hopefully plenty of you will still be able to support the event to get your epic.LAN fix over the coming months.
The new dates are Saturday 13th - Monday 15th September. We will get in to the venue as early as possible on the Saturday and aim to have things ready by around 11am, though we'll continue to look at options for getting ready even earlier if possible.
To give everyone chance to find out with work around leave requests, we'll open the ticket bookings at 8pm on Sunday 3rd August.
C U @ elite13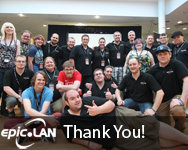 Well that's epic.THIRTEEN all over with, the team is all back home and packed down and already looking at your feedback to see how we can make our next event even better.
Please keep sending in your thoughts, in the following ways:
Don't forget to check out all of our coverage as well, see if you can spot yourselves in any of our photos or YouTube videos. We'll have some tournament VODs available soon over the coming few days.
Remember, epic.FOURTEEN may be next year, but tickets are already going fast. Save yourselves £10 if you book before 30th September!
Thank you all for coming to epic.THIRTEEN, see you next time!