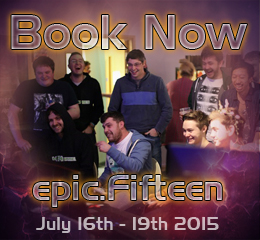 Next Event

epic.THIRTEEN

Date

17th - 20th Jul 2014

Venue

Kettering Conference Centre

Capacity

400

Paid

99

Spaces

301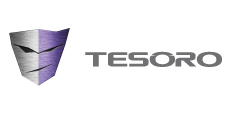 After such a great response by the League of Legends community at our last event, Tesoro have stepped up to sponsor our epic.THIRTEEN tournament, to ensure that the tournament starts off with a minimum guaranteed prize of £1000 rising to £4000 depending on the number of teams taking part as well as Tesoro products for the top placing teams.
Tesoro Technology consists of a team of gaming enthusiasts from the US and while still relatively young in the peripherals market, they'll be expanding their range of gaming keyboards, mice, surfaces and audio, inspired by the community.
Bookings are open for epic.THIRTEEN, with tickets just £50 until 8pm 1st April, so grab yourself a cheap ticket now!
It seems that nearly all of the seats in our casual gaming room (Portland) have gone! So we've decided to open up Pendeen as a further 'loud' casual gaming room for epic.THIRTEEN, or the 'Portland Extension'. We'll be running the music and the lighting through to Pendeen as best as we can to try to keep the same sort of atmosphere as we have in Portland, giving another 36 casual gaming seats for you to play with!
So with 90 tickets already gone for epic.THIRTEEN and 4 weeks of launch discount still to go, it's looking like everything is awesome for our next event!
epic.TWELVE is over and one thing we always do after the event is give out achievements. While doing so we hit a nice milestone and have now given out over 5000 achivements to 1043 different participants of our epic.LAN and epic.LITE events.
Have you checked out your achievements yet? Log into the website and forums and have a look at the achievements tab on your forum profile. If you think you are missing any, use the contact form at the bottom and we will have a look for you!
While you are on your profile, why not fill out some of the information like Steam ID, gamer tags and other contact information so people can chat and play toegther!
Until the next milestone (over 9000), keep collecting!
FM Raiders vs Team Infused in the Grand Final. As FMR came throught the upper bracket they begin the best of 5 series with a 1 - 0 advantage.
It was a long day of finals here at epic.TWELVE, though I think it would be fair to say that everyone had a good time including the admins and casters. So on to the winners:
League of Legends Sponsored by Astro.
Winners: FM RaiderZ
Runners Up: Team Infused
CS:GO
Winners: Team CRG
Runners Up: The Lovely Men
ESL Dota 2 Challenge
Winners: Dwayne 'The John' Rockson
Runners Up: So LeJit
Starcraft II
Winners: Ourk (FM)
Runners Up: Rotcod (TLR)