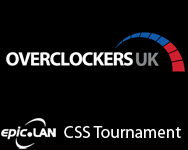 After dropping to the lower bracket following their earlier loss to Rasta.Xd, Team CRG fought off FM TOXIC to face Rasta.Xd once again in the Grand Final in what proved to be an epic rematch.
For much of the LAN, it looked like the tournament was Rasta's for the taking, having only lost one map throughout the tournament. But a tense battle ultimately delivered Team CRG their first epic.LAN win with Rasta.Xd once again taking 2nd place and their 5th podium finish at our events.
You can read an in-depth report of Team CRGs path to the final over at Cadred. And you can also download the demos now to watch the action back.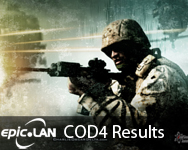 What a fantastic tournament there was all kinds of exciting matches happening throught the weekend and the winners have been confirmed as Phantasmagoria with Apex eSports coming in second.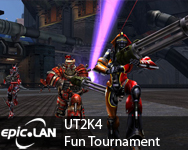 The first round of the Unreal Tournament 2004 elimination tournament went underway Friday night at a slightly delayed 6:15 starting time, seeing 22 players demanding their piece of the action, and their stake at the prize.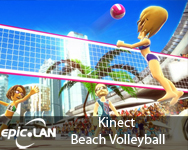 A slight change to the planned fun tournament at epic.NINE, meant that Boxing was off the cards and Volleyball was in! With 8 competitors donning their best beachwear they took it in turns to battle it out on the sand (as well as shaking some moves!) to make it into the quarter finals!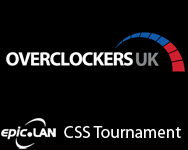 The Overclockers UK team have dropped off the goodies at for epic.NINE with even more stuff for you guys here at the event. So the full prize lineup for the Counter-Strike Source Tournament is:
1st Place
£750
5x NZXT Switch 810 Cases (on display in Hall 2)
5x CS:GO T-Shirts
5x Borderlands 2 PC Game
2nd Place
£250
5x Dirt Showdown Game
5x 16GB USB Pen
3rd Place
5x Nexuiz Game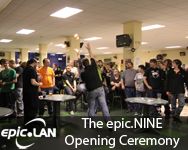 The opening Ceremony at epic.NINE was a bit of a giggle, We had our very own JoeShow reading an excerpt from a very popular novel which when read in his three voices (Sexy, Duke Nukem and DJ) was hilarious.
Next up we had a group of would-be conductors attempting to conduct the Wii orchestra playing the Zelda Theme. With a chance to win a pint from Winbar and a discount off of epic.TEN, competition was tough and in the end with a score of 76 the winner was ddanblack! So well done to him and all the competitors for providing some entertainment at the opening to epic.NINE.
With a countdown from 10 the lights were soon out and it was go go go on what is set to be a great LAN weekend.
It's a little warm here in Staffordshire as we get ready for epic.NINE. As it's pretty much impossible to air condition a LAN party, the best we can do is try to force plenty of air through the room.
To help that, as we're under-capacity for the event, we're going to allow you to bring small, low-powered desk fans once again. However, we need to limit this to one per table, so you'll need to share with the people next to you.
Obviously we'll monitor the power situation and always reserve the right to say no if they draw too much power.
The temperature levels will also mean that we'll need to keep the main doors open at key times, if you're sitting near to the doors, please be patient with us as while your temperature may be OK, the centres of the rooms may not be!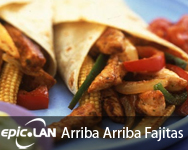 When we started discussing this event with the caterers, we were hoping it would be all summery, so we were looking for something appropriate on the catering menu!
Despite the rain, we're going to do it anyway, so on Friday night, as a change from the usual burgers, you'll also have the opportunity to grab some chicken fajitas, with the usually trimmings (obviously the burgers will still be there if you want!).
To help the catering guys out, you'll need to pre-order with them any time from Thursday up until Friday afternoon and it will be on a first-come-first-served basis.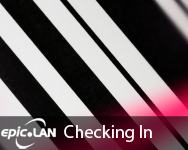 Please help us to speed up the check-in process and keep the queues down by doing the following:
If you are planning on spectating the event, paying for a participant place on the door (if there are spaces remaining) or you have visitors coming to see you, please create a spectator booking on the system in advance, it's still fine to pay on the door, but will save time on the day.
Remember, the doors open at 4pm, if you arrive any earlier we'll have to ask you to wait outside or in the Railway Bar sleeping area.
On another note, please make sure you update your games before you attend to help us save bandwidth at the event.
See you in a few days! And don't forget to go through our handy checklist while you're packing to make sure you don't forget anything!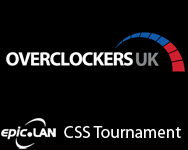 A very familiar face in the hardware market has joined the epic.NINE sponsorship lineup. Staffordshire-based Overclockers UK have just confirmed that they will be sponsoring the epic.NINE Counter-Strike Source Tournament!
So in addition to the cash prizes for the tournament, the winning team will take home 5x NZXT Switch 810 Gun Metal Cases, worth a total of £800 added to their winnings! They'll also have a few "LAN bags" to give away throughout the weekend for various other activities.
In addition, epic.NINE participants can get free shipping from Overclockers UK for 2 weeks beginning 19/7/12, simply use the code 'epic9' at the checkout!
Thanks to the Overclockers UK team!
Page 1 of 3