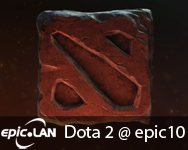 We're very excited to confirm Dota 2 as the third of our competitive tournaments for epic.TEN next February with a potential prize pot of up to £3000.
Obviously the game is still evolving and we're keeping an eye on how the game and competitive community develops between now and the LAN, but we've had so many members of the UK Dota community getting in touch with us over recent weeks asking us to host one of the first UK LAN tournaments for the game, and of course we really wanted to introduce a strategy game for the event!
The initial info for our Dota 2 tournament is now available, full rules and tournament details will be worked on over the coming months. We've had some initial contact with willing admins, but if you want to help out with our first Dota2 tournament then please contact us.
If you want to take part, then you need to be at epic.TEN, so go and book now!