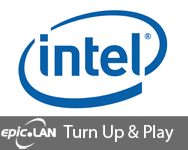 Thanks to kind support from Intel, we still have a few Turn Up & Play (TUP) spaces remaining for epic.EIGHT, so if you want to attend, but can't get your PC there, here's a great option for you!
TUP tickets are £80 each, so that's your £57 event ticket plus just £23 for use of a PC for the weekend!
The TUP machines will need to stay in the allocated area, so they cannot be moved to other seats.
To book, simply select the TUP ticket for epic.EIGHT, if you've already booked BYOC and you want to convert, then contact us and we'll arrange for you to pay the difference.
TUP PC Specifications
Chassis: TT Dokker
Board: Intel DH67BL
CPU: Intel Core i5-2500
GFX: NV 570GTX
Disk: +120GB SSD
PSU: W0105RU
RAM: 4GB DDR3 @ 1333MHz
Display: Benq E2400HD