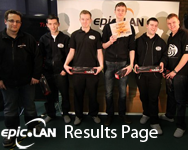 Well we're just about recovering from the lack of sleep from epic.EIGHT and we've now put our Results Summary Page up to keep a historical record of all our event winners (and losers) as well as details of our various photography and video galleries.
Don't forget, our event survey is up for about another week, until Sunday 4th March, so if you went to epic.EIGHT, let us know what you thought so that we can keep making things even better!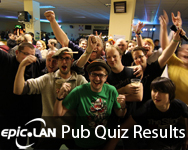 As always, we have quite a laugh reading through some of your answers to the pub quiz, so we've gone through all of the quiz papers and picked out a couple of the howlers.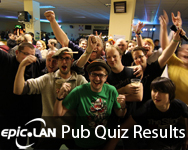 The pub quiz saw a close battle this time at epic.EIGHT! It was a closely fought competition with several teams battling it out to claim Pub Quiz victory! Overall there were 10 teams who took part in the pub quiz with a prize pot of £57 for the winners and £19 for second place. The final placings were as follows:
10th - Crash To Desktop
7th - (joint) Doesn't Matter, Had Sex, Wake Up Whitney, I need A S*** and Rasta.PubQuiz
6th - Bad Acid
5th - That Lot
4th - Defiler Defiler Defiler
3rd - CantFitMYN
2nd - Quizlamic Jihad
1st - Shut the F****** Door (Vertigo, _Jay_, Jobabob, Elsie, Bicko and MasterChief)
Well done to the winners! It was a really close result as the first two teams were tied and it came down to a tiebraker question to decide the winner!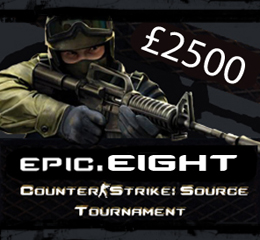 The final between Rasta Gaming and Fragmasters Toxic will take place at 11am, keep your eye on the right hand side for full match details. All the demo's for the elmination stage will be online after the final.
Will this match be a repeat of the upper semi final?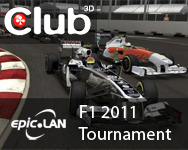 This mornin saw ourClub 3D F1 2011 Fun Tournament take off with a huge number of participants all wanting to claim pole position and take home the Club3D graphics card from our sponsors. We ran two games and the players going through to the final tomorrow will be:
Mark Rapson - 130points
Booti - 122points
Mastchief - 121points
Vertigo - 101points
Mark Smallwood - 97points
Hodgster - 85points
Peter Augustin - 80points
Matt2k34 - 64points
Elsie - 64points
Nick Thompson - 63points
Paul busby - 50points
Rolphus - 28points
Make sure you catch the action tomorrow its sure to be an exciting race to the chequered Flag.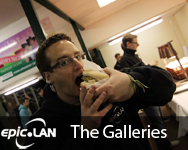 For those of you missing out on epic.EIGHT or those who just want to browse the galleries, The first two days of epic.EIGHT are now available here! Coverage including: Building the event, the Opening Ceremony the tournaments and hog roast! Check out the epic.Galleries maybe you'll spot yourself in your moment of epic fame like Winbar here enjoying the hog roast. Om Nom Nom.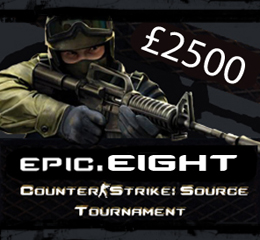 With the 10 starting teams now reduced to a nice 8 for the the double elim the results can be found here if you are at epic.EIGHT and here if you are outside
The double elimination fixtures start tomorrow at 11am, sourceTV ip's will be available 5mins before the scheduled start time.
Just look to the right for all the fixtures or click here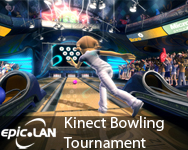 The first round of the Kinect bowling has come and gone, and brought with it 20 budding bowlers all eager to impress and make it through to the finals on Sunday.
Giggles all round as many walked up to the lane for the first time, this resulted in a few rogue balls skipping lanes, dribbling down the lane or in one case crack the floor of the virtual bowling lane! Chilli was that impressed that she didn't want to let go of her balls……

A total of 5 games were played each having four players playing a full 10 frames, with their scores recorded.
This led to the highest 8 scorers across all the games making their way into the finals on Sunday at 10am.
They are; Adunas, Orvil, Kloopy, Cyberdrac, Yeggstry, Mithious, Flemanofkol and Cypher. Who will be victorious!

See you then!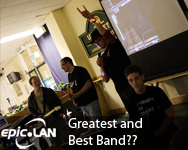 Our opening ceremony rock band competition saw three teams battling it out to win a round at the bar, some discount off epic.NINE tickets and the respect of their peers! The song was Tribute the weapons of choice, two guitars, a microphone and a drumkit.
After a disappointing start by our own epic.RADIO team (some inside sabotage by Jayling I think, We all know how much he loves Tenacious D.......) It was our second competitors that took the title, Team Llama!
With Jay and CyberDrac on guitars, Fatal Impurity on drums and Jobabob on vocals they stormed to victory and rocked the opening ceremony.
Page 1 of 4