I recently wrote about how things had been going for the business side of EPIC.LAN and explained how we've started the painful process of rebuilding after almost losing everything in 2020 due to all of our private work disappearing in 48h at the start of the pandemic.
Obviously finances keep a business going on paper and believe it or not our LAN events are not run to make a profit, most LANs only just break even (EPIC34 did not even do that with all the extra COVID-related costs) so that external work is really important to cover our community LAN event costs. But it's really the people and community that keep us motivated to do what we do as EPIC.LAN and that's why I wanted to finish 2021 with the most important thank you...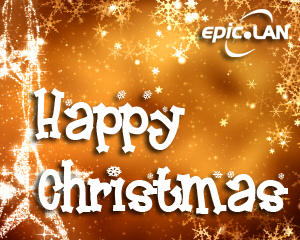 It doesn't feel like it has been a whole year since our last Christmas message, but it's time to say goodbye again to another year and look forward to what 2014 will bring.
12 months ago we were planning our first event at Kettering Conference Centre and that move certainly paid off, with two fantastic events under our belts, including epic.TEN as our biggest to date. Our 2014 events see even more space for our casual gamers and a new partnership with ESL UK for some of our tournament games as we continue to bring you some of the best quality offline tournaments in the UK to help put the good old UK Scene on the map!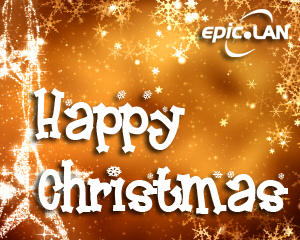 It's been another amazing year here at epic, despite the sad ending of epic.RADIO yesterday, and as Santa begins his journey around the world, we take a look back at 2012.
Our community continues to grow, with over 4000 registered users on our new forums and our LAN events growing in popularity, with epic.TEN already on track to be our biggest event yet. More and more of you are turning to our Facebook and Twitter channels to keep an eye on what we have going on and we're going to try to keep those even more active in 2013. We've had plenty of great community games too, including our regular games nights and our permanent servers, such as Minecraft, we hope to do even more of that for you in 2013.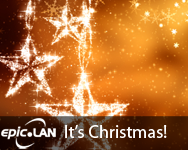 It's that time of year once more, Santa is making his way around the world and the epic team members have already consumed a little too much mulled wine.
I'd like to take this opportunity to wish all of our community members a very merry Christmas and all the best wishes for 2012. I would also like to make a special thank you to all of the members of the epic.LAN and epic.Radio teams who have once again given another year of their own time to bring you some great LAN events and online activities.
Looking back over 2011, we've had another very successful year. Our biggest ever LAN event took place in February, we introduced a successful tournament series to our events while retaining the old atmosphere through the two hall idea and we've continued to improve on the events you all enjoy.
We also had some great smaller community events, including our epic lite LANs, Alton Towers Trip and our second visit to the F1 Grand Prix at Silverstone.
Online, we've continued to grow our community, recently passing over 1000 registered users. We've maintained our popular games nights, have a great forum and IRC community and of course we've recently launched epic.Radio for you all to listen to while you're playing and that has brought some great new people into our online and LAN community who we welcome wholeheartedly.
So in 2012, we hope to continue to build on the successes of this year. epic.EIGHT is already looking very promising for our casual and competitive community. New forums are coming (sorry, they had a little delay while we launched the radio) and we have some other exciting plans for our events and online activities.
Again, I thank you all for being a part of what we've achieved in 2011, and look forward to seeing you all in 2012.
Best Wishes,
Jon (Winbar)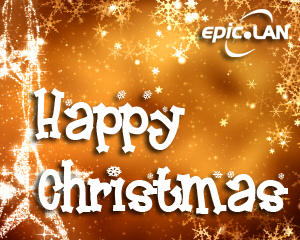 The team at epic.LAN would like to wish all of our community members and partners a very happy Christmas and all the best for the New Year.
2009 has been a great year for epic.LAN and that is thanks to the support of the community, we are very grateful and we look forward to seeing you all in the new year for epic.THREE in February, and we know that will come around fast!
Enjoy the festive break, don't drink too much and we'll see you all soon!
The epic.LAN Team