For the first time in our history, we had over 12 months without any events, so 2022 is time to make up for that with three new events added to our calendar, moving a few experiments from 2021 in to the permanent lineup for EPIC.LAN this year.
We're pleased to introduce a continuation of our dedicated Tabletop events with two more weekenders showcase all things tabletop as well as a completely new event, EPIC.LUX, which probably needs a better name, but we're rolling with it for now.
One of the world's most popular and innovative peripherals brands, Logitech G has renewed its partnership with UK gaming and esports event EPIC.LAN as official peripherals partners for 2022.

Logitech first got involved in EPIC.LAN back in 2014 through its ASTRO Gaming brand and has stayed involved in a range of fun tournaments, casual gaming and esports tournaments throughout the year. Last year was Logitech G's first year as EPIC.LAN's official peripheral partners and we're all really excited to continue that relationship through our 2022 events.
I recently wrote about how things had been going for the business side of EPIC.LAN and explained how we've started the painful process of rebuilding after almost losing everything in 2020 due to all of our private work disappearing in 48h at the start of the pandemic.
Obviously finances keep a business going on paper and believe it or not our LAN events are not run to make a profit, most LANs only just break even (EPIC34 did not even do that with all the extra COVID-related costs) so that external work is really important to cover our community LAN event costs. But it's really the people and community that keep us motivated to do what we do as EPIC.LAN and that's why I wanted to finish 2021 with the most important thank you...
We've all missed events so much, we've decided to launch a new one! Introducing the EPIC.LAN Tabletop Edition.

This event is something we've wanted to try for some time, but the whole global pandemic thing slowed us down. But after we found a new venue for our July event, one thing led to another and we've decided to launch our pilot tabletop event at our Coventry outpost this August.
Following on from the recent announcement from the Prime Minister and further clarity from the UK Government on Monday meaning that hospitality venues cannot open until July 4 at the earliest, we've taken the difficult and perhaps expected decision to cancel the next physical event and change epic30 into an online format.
BUT, we feel that at these times, it's important to make sure something still happens over the epic30 weekend (2-5 July) to bring people together through gaming rather than simply cancelling it, so we're going to be pulling out all the stops to put on as much of an epic.LAN experience as we can with loads of the things you'd normally expect at our events.
Dota 2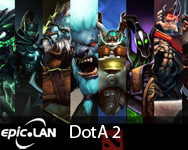 It's the first day of our tournaments and our Dota 2 stream schedule is as follows:
11:00 Dae 4 Lyf v Two Mangoes Please
12:15 Dowderz Dream Stack v King dave has a subaru
13:45 Soup's Jabronis v Rasta A Owl
15:00 Under ctrl v Choke Gaming
16:30 Choke Gaming v Rasta A Owl
You can catch all our Dota 2 action on our Twitch Stream throughout the day with our casters Steven "rusts" Holmson and Joe "QuesTextDota" Sealey you can Tweet them @Rustsandstuffs and @QuesTextDota
League of Legends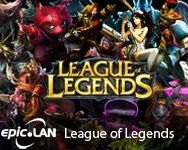 Our LOL Streaming schedule is as follows and will be available to watch on our Twitch Stream.
Round 1: GiM White vs FM eSports @ 11
Round 2: FM eSports vs Wawa Diamond Yet? @ 12:30
Round 3: FM eSports vs Team Infused @ 14:00
Round 4: GiM White vs Wawa Diamond yet? @ 15:30
Round 5: Wawa Diamond Yet? vs Team Infused @ 17:00
Our games will be cast by Joe "Munchables" Fenny - @MunchablesLoL and Jackson "Osigalas" Walters - @Osigalas
Counter Strike: Global Offensive
Ben brings a wealth of experience to our casting lineup here at epic.FIFTEEN as he has previously casted for us at epic.FOURTEEN and has continued his work with activities in the ESL UK Premiership, as well as being on the analysis desk for the UK Premiership Finals back at MCM in May. Meanwhile Mark has been a long time member of the casting community as he famously did work at some iSeries CS: Source events and has also been with us too. Jack will be joining the lineup after he has finished competing in the group stages with his team 27in1 and is one of our fresh faces to the casting lineup as he has done work with FACEIT and online for 27in1 in Counter Strike before.
DotA2
Steven is probably one of the most complete casters we have ever had grace our events, his knowledge of DotA2 is practically unrivaled and his casting is incredibly in line with top level casters. He had casted for us at epic.FOURTEEN and we welcome him back to our lineup here for our Summer LAN. Joe is one of the few newcomers to our LAN events and is relatively new on the casting stage, so once again after a successful stint at epic.FOURTEEN we welcome him back too. Over the course of the weekend there will be multiple players joining the stream to also help cast some of our quality DotA2 games.
epic.LAN is very proud to announce our latest addition to our streaming lineup for our next event epic.FIFTEEN.
With various feedback over the last few events we've made the decision to introduce a new concept and stream to our already existing lists of streams that run during the event.
The stream will be known as the 'Central Stream' and will act as a central hub for as many activities that we can cram in during the event and we're not just talking eSports here!
With plans to make the stream relevant to our dedicated eSports fans but also appeal to our fantastic social community. Read on to see what we have in store for the central stream at epic.FIFTEEN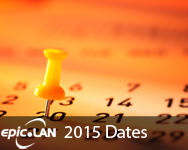 After many requests over the past few years, we've decided that the gap between July and February is far too long, so in 2015 we'll be hosting three main epic.LAN events. Make sure you add these to your diary and get those all-important holiday requests in nice and early:
epic.FOURTEEN: Thurs 19th - Sunday 22nd February
elite15: Friday 22nd - Monday 25th May
epic.FIFTEEN: Thurs 16th - Sunday 19th July
epic.SIXTEEN: Thursday 8th - Sunday 11th October
elite16: Friday 4th - Sunday 6th December


It was a long day of finals here at epic.TWELVE, though I think it would be fair to say that everyone had a good time including the admins and casters. So on to the winners:
League of Legends Sponsored by Astro.
Winners: FM RaiderZ
Runners Up: Team Infused
CS:GO
Winners: Team CRG
Runners Up: The Lovely Men
ESL Dota 2 Challenge
Winners: Dwayne 'The John' Rockson
Runners Up: So LeJit
Starcraft II
Winners: Ourk (FM)
Runners Up: Rotcod (TLR)
Page 1 of 3