epic.LAN is very proud to announce our latest addition to our streaming lineup for our next event epic.FIFTEEN.
With various feedback over the last few events we've made the decision to introduce a new concept and stream to our already existing lists of streams that run during the event.
The stream will be known as the 'Central Stream' and will act as a central hub for as many activities that we can cram in during the event and we're not just talking eSports here!
With plans to make the stream relevant to our dedicated eSports fans but also appeal to our fantastic social community. Read on to see what we have in store for the central stream at epic.FIFTEEN
Day 2 of epic.LAN is now in our Gallery and on our facebook page. Including the pub quiz winners and the Boat Race. Check it now and feel free to tag people on the facebook images.
The images from Mini Build, Build and Day One are now up in the epic.Galleries for your viewing pleasure. They are also available on our Facebook page for you to tag and comment.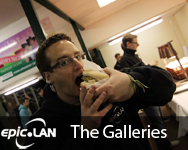 For those of you missing out on epic.EIGHT or those who just want to browse the galleries, The first two days of epic.EIGHT are now available here! Coverage including: Building the event, the Opening Ceremony the tournaments and hog roast! Check out the epic.Galleries maybe you'll spot yourself in your moment of epic fame like Winbar here enjoying the hog roast. Om Nom Nom.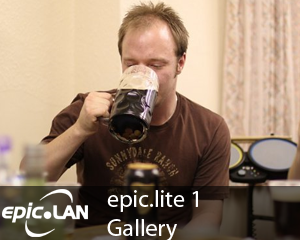 The first selection of pictures from epic.lite 1 are now up on the gallery.
We'll be updating this throughout the event and ensuring we snap the "best" moments from the LAN!