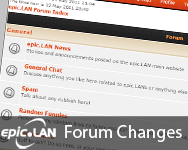 Some time ago we announced that we would be moving our forums away from PHPBB2 and on to a new system. We can now confirm that the forums will be hosted using Invision Power Board (IPB), a platform that many of you will have seen on sites such as autosport.com and neowin.net.
Work is still ongoing to integrate the new forums into our website and ensure that we migrate as much data as possible. We'll also announce more details about some of the IPB features we'll be using over coming weeks.
All of your accounts and forum posts will be moved over to the new platform, however we are unable to get the Private Messaging data to transfer over due to the age of current system.
We'll give you plenty of notice before the actual switchover, but in the mean time if you have any useful info you need to keep from your PM history, then you may want to back it up locally before we do move over.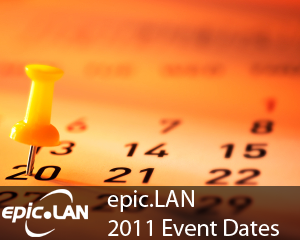 After loads of you have been asking, so that you can book holidays from work next year, we've rushed ahead to confirm the epic.LAN event dates for 2011 already!
Because we're launching our new style events, and investing a lot of time and resources into running the two rooms at Uttoxeter, we've shifted the balance in 2011 to run 3 epic.LAN events at the racecourse and 2 lite events in Bagnall. We're also hoping to actually get around to some more social events next year, like our Silverstone F1 trip.
So in 2011, you can join us for some excellent LAN parties on the following dates:
epic.FIVE - 24th - 27th February (bookings open!)
epic.lite 4 - 27th - 30th May
epic.SIX - 28th - 31st July
epic.SEVEN - 20th - 23rd October (provisional)
epic.lite 5 - 18th - 20th November
Event bookings for our main events will open some time at the previous event, normally on the last day. The dates for our epic.lite event bookings opening will be confirmed closer to the time, but is normally a few months before the event.
Now, go fill in those holiday requests!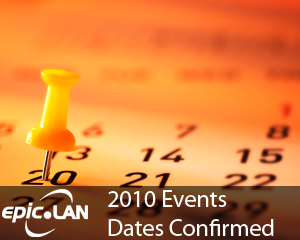 We can now confirm the remainder of the dates for our Midlands LAN parties in 2010
epic.lite 1 - 28th - 31st May 2010 (Spring Bank Holiday) - Sold Out
epic.FOUR - 29th July - 1st August 2010 (Bookings Now Open)
epic.lite 2 - 24th-26th September 2010 (Bookings Opening June)
epic.lite 3 - 19th - 21st November (Bookings Opening August)
epic.FOUR will be one of our main events at Uttoxeter Racecourse, Staffordshire UK and will have capacity for at least 120 gamers. We've decided to stick to just 2 main events this year at the racecourse, but hope to bring 3 main epic.LAN events in 2011.
Our epic.lite events are much smaller and more relaxed events for just 32 people in our original home at Moorlands Village Hall, Bagnall (also in Staffordshire). The first epic.lite event is already sold out, with a waiting list in operation, though there is a small number of spectator passes available.