We're really excited about epic.LAN in 2014, after our great first year of LAN Parties at the Kettering Conference Centre, we can't wait until February to get back and put on some great gaming events for you.

But it takes quite a bit of man (and woman) power to put on the events across our various teams and with some of our plans for 2014, then we need to keep growing the event team to keep making the events even more...epic (sorry).

Everybody on the team, right up to the management, is a volunteer, we all do it because we enjoy it and get a buzz at the end of the whole thing when we see hundreds of you enjoying the LAN. It is very hard work with long hours, but it's extremely rewarding, otherwise we simply wouldn't do it!

So we're looking for some willing helpers in the following areas:


Tournament Team - As our tournaments grow, then the admin team needs to as well and this includes our casters. We are still currently looking for casters for our LOL tournament, so if you have casting experience and play LOL then get in touch!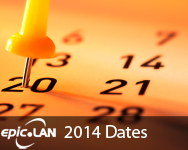 With epic.TWELVE already announced for 14-17th February 2014, we can now confirm the full calendar for 2014:
epic.TWELVE - Friday 14 - Monday 17th February 2014
epic.THIRTEEN - Thursday 17 - Sunday 20th July 2014
epic.lite 12 - Friday 23rd - Monday 26th May 2014
epic.lite 13 - Friday 26th - Sunday 28th September 2014
epic.lite 14 - Friday 5th - Sunday 7th December 2014
We'll keep an eye on the numbers for epic.TWELVE and may consider a 3rd main epic.LAN event around October if the numbers head in the right direction. If we do so, the September epic.lite date will be converted to a social trip of some sorts.
Winbar parted with a large amount of money recently to confirm that next years bookings are now in the diary. We are pleased to announce that epic.Twelve in February is now open for bookings and takes place Friday 14th - Monday 17th February 2014 here at Kettering Conference Centre.
Confirmed for the Tournament side are Starcraft 2, League of Legends and CS:GO. We'll also have the usual mix of Big Games, Fun Tournaments, DJ Slots and Pub quiz with lots of fun and shenanigans all thrown in for good measure.
Early bird discount ends September 30th @ 8pm so get your bookings in nice and early to save yourself a tenner. Lets make epic.TWELVE the biggest epic.LAN yet!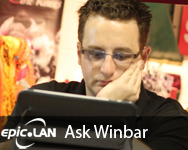 Over the past few weeks you've been throwing some questions at me on our forums, Twitter or Facebook, and we've had a great response, in fact so many questions we're going to divide the responses over a few posts during the coming weeks.
Thanks to everyone who sent in a question, here are your answers: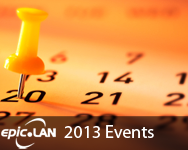 Grab your diaries, as we can now pretty much confirm the 2013 LAN dates for the year. The only date we're slightly unsure of is whether there will be an October main LAN event, and before we decide on this, we need to see how the numbers go for epic.TEN in the new venue and then see if it is viable, as previous October events have been fairly quiet.
Event Dates
epic.TEN | 15-18th February 2013 | Kettering Conference Centre (400 Players)
epic.lite 9 | 24-27th May 2013 (Spring Bank Holiday) | Moorlands Village Hall (32 Players)
epic.ELEVEN | 25-28th July 2013 | Kettering Conference Centre (400 Players)
epic.lite 10 | 27-29th September 2013 | Moorlands Village Hall (32 Players)
epic.lite 11 | 6-8th December 2013 | Moorlands Village Hall (32 Players)

Bookings for epic.TEN are now open with a discount of £10 if you book before the end of September, other event bookings will open in 2013.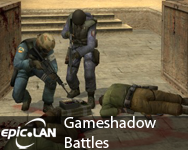 GameShadow, Fasthosts & epic.LAN have joined forces to launch GameShadow Battles, a new tournament based online gaming experience, and is going to premier the partnership with a fantastic opportunity for gamers to win a combined prize fund of £10,000.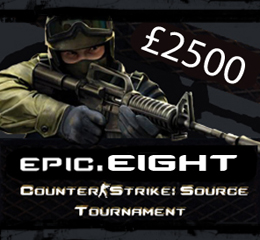 The final between Rasta Gaming and Fragmasters Toxic will take place at 11am, keep your eye on the right hand side for full match details. All the demo's for the elmination stage will be online after the final.
Will this match be a repeat of the upper semi final?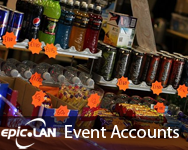 If you run out of cash at the event, or you want to help budget your daily spend on all things caffeinated and sugary then don't forget we have our event accounts available.
Simply visit the intranet when you're at the event, go to the account top-up page and you can load your account with money from PayPal, Credit/Debit Card and that will be made available for you to spend at the epic.LAN Tuck Shop.
Note that the event accounts are not available to use at the catering van or the bar as these are externally operated.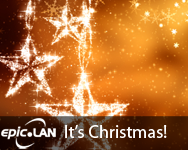 It's that time of year once more, Santa is making his way around the world and the epic team members have already consumed a little too much mulled wine.
I'd like to take this opportunity to wish all of our community members a very merry Christmas and all the best wishes for 2012. I would also like to make a special thank you to all of the members of the epic.LAN and epic.Radio teams who have once again given another year of their own time to bring you some great LAN events and online activities.
Looking back over 2011, we've had another very successful year. Our biggest ever LAN event took place in February, we introduced a successful tournament series to our events while retaining the old atmosphere through the two hall idea and we've continued to improve on the events you all enjoy.
We also had some great smaller community events, including our epic lite LANs, Alton Towers Trip and our second visit to the F1 Grand Prix at Silverstone.
Online, we've continued to grow our community, recently passing over 1000 registered users. We've maintained our popular games nights, have a great forum and IRC community and of course we've recently launched epic.Radio for you all to listen to while you're playing and that has brought some great new people into our online and LAN community who we welcome wholeheartedly.
So in 2012, we hope to continue to build on the successes of this year. epic.EIGHT is already looking very promising for our casual and competitive community. New forums are coming (sorry, they had a little delay while we launched the radio) and we have some other exciting plans for our events and online activities.
Again, I thank you all for being a part of what we've achieved in 2011, and look forward to seeing you all in 2012.
Best Wishes,
Jon (Winbar)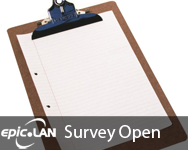 The 2011 epic.LAN survey is now available for you to complete. The results of the survey will be used to help us plan our future events and community activities.
Everyone who completes the survey will be entered into a draw to win one of three £10 epic.LAN vouchers to use on a future event.
The survey will remain open until Saturday 22nd October. Don't forget there is also the opportunity to give your feedback at our epic.SEVEN community workshops.
Page 2 of 3