It's not often that players from the UK get to show off their DotA 2 abilities in a LAN environment, with very few players from the region having an impact on the professional scene. But the game has found a growing fanbase in the UK in recent years, becoming the third most popular game played by Steam users in the country...
After launching a successful 3 day breakfast meal voucher a few LANs ago, KCC and ourselves here at epic.LAN are pleased to announce that now you can also pre book a 3 day evening meal voucher.
The 3 day evening meal voucher is £13.50 and entitles you to one of the main £5.00 meal options each night of LAN. Pre purchasing your meals couldn't be easier just go to your event booking and add it as a service your vouchers will then be allocated to you when you check in to the event.

Great news for our fun tournament participants as be quiet! a long term supporter of epic.LAN confirms they'll be supporting our Overwatch 1v1 fun tournament.
The tournament winner will take away a Dark Base Pro 900 Silver Case
2nd place will take away a Silent Base 800 Orange Case
3rd place will take away a Pure Base 600 Black Case
A huge thank you to be quiet! for their continued support!
Great news, even with a bigger capacity for 2017, we're sold out for epic20. Don't be mad if you missed out, it's not our fault! The capacity is final, we're unable to add in any additional seats.
Now that's happened, a waiting list will be set up for any tickets and cancellations.
Yesterday we exceeded all previous participant numbers from previous events making epic20 our biggest event to date.
That has placed some pressure on the seating plan and therefore the restrictions on sitting in either the Portland or Bamburgh rooms have now been lifted so you may now select these areas for any games.
Note that there will still be 'defrags' taking place over the coming weeks to get teams and groups sat together where possible, but as tickets are sold on a first-come-first-served basis, we cannot promise that late bookings can be accomodated at this stage.
Please keep an eye on the Fair Isle Defrag forum post for more information. If you are playing as part of a team in one of our tournaments, make sure you have signed up to the tournament site and all set the same clan tag on your main account as it will help us with the seating process.
It's time to dust off the New Year cobwebs and put your pulse bomb where your mouth is! Following the positive feedback recieved with epicLAN @ EGX last year, successfully running the Overwatch experience - We are keen to keep working with the Overwatch community!
epicLAN & ASTRO have teamed up to provide this Overwatch challenge to see who is coming in hot ahead of epicLAN's first Overwatch tournament at epic20 and of course, to win prizes!
This tournament will see up to 32 teams in a single elimination 1 day tournament, with pride and prizes up for grabs, secure your position today in the epicLAN Winter Overwatch Challenge.
When: Sunday 15th January from 15:00 UK Time
What: Max 32 teams, single Elim Overwatch tournament with prizes
Signup & More Info here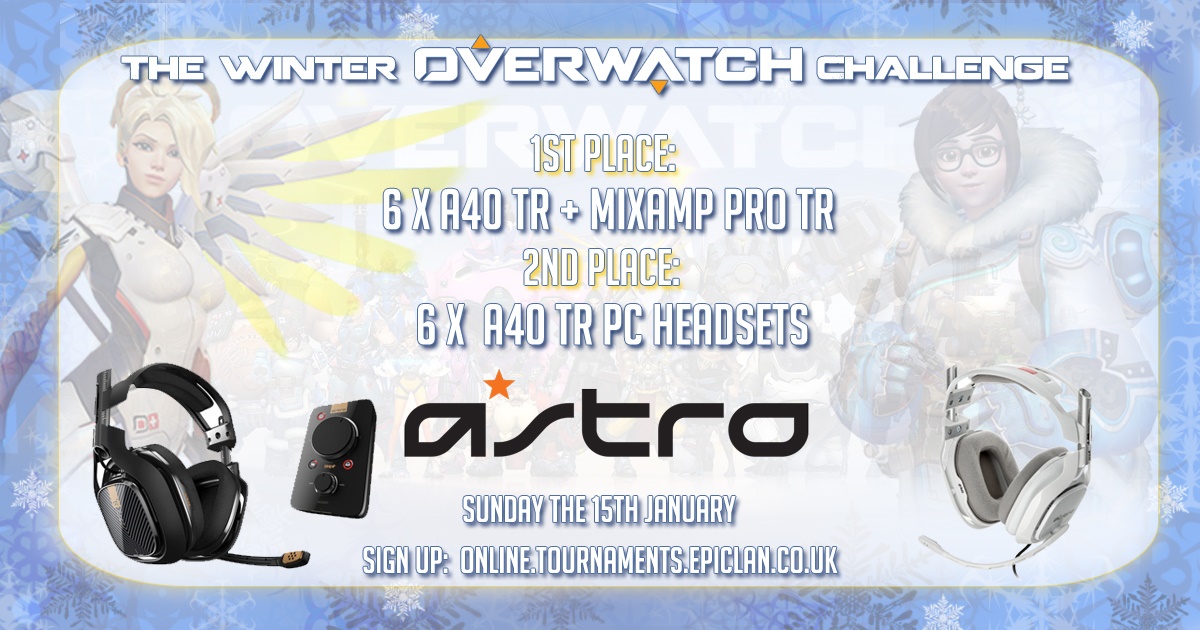 Make sure you check out Qwazar this weekend at www.qwazar.co.uk. These guys are setting out to deliver high quality, high reliability and feature rich mechanical keyboards at an affordable price and are already seeing some great reviews on Amazon for their Red Shift model.
Thanks to Qwazar for supporting epic.NINETEEN this weekend!
Following on from a number of recent well-documented issues in the UK CSGO scene, including one at our last event, the following players are now subject to bans from all epic.LAN events:
Ben 'krby' Kirby - 1 Year (Cheating)
Joseph 'Joee' Leigh - 2 Years (Cheating - VAC Banned)
Charlie 'K1NDEADLY' Weber - 2 years (Drug Use)
These bans will be for a minimum of the periods identified above and will be reviewed at that time.
While the cheating incidents did not occur at our events, we are working closely with other UK eSports operators to apply consistent bans in order to encourage fair play at UK tournaments. In the case of "K1NDEADLY", there is a clear admission of breaking our event terms at epic.EIGHTEEN and we must show a zero tolerance approach.
Jon Winkle, epic.LAN Managing Director, issued the following statement:
"We must be absolutely clear in our stance when it comes to use of illegal substances at our event, we will not accept it and anyone involved will be removed and banned from future events. If we find that others were involved in this particular incident or any other in the future of a similar nature, the same punishments will apply. In terms of cheating, whether this takes place at our events or at other UK events, cheaters are simply not welcome at epic.LAN and we're going to follow the good examples set by ESL and Multiplay by applying these bans to our event too."
Furthermore, we will be taking this opportunity to review our code of conduct for our event participants to improve the quality of the event and tournament. This will include, but not be limited to, areas such as cheating, substance misuse, timekeeping and abuse towards other participants and event staff.
Todays schedule for the tournaments as our finals get underway is as follows:
CS:GO
Is at 12:00 and will be on our Twitch channel
DOTA
Is underway now on our Twitch channel
Starcraft II
Is at 12:00pm and will be over on our Twitch channel
CS:GO
Team uFrag Vs Perilous Fury 11am
Semi-Finals Upper Bracket (1pm)
Upper Bracket Final (4pm)
Lower Bracket Final (7pm)
Consolation Final (10pm)
CS:GO is available to watch on our twitch channel.
Starcraft II
Gamerrichy Vs ThurJD (11am)
Quarter Finals Upper Bracket (1pm)
Semi-Finals Upper Bracket (3pm)
Upper Bracket Final (5pm)
Lower Bracket Semi-Final (7pm)
Lower Final (9pm)
Consolation Final (11pm)
Starcraft II is available on our twitch channel
Hearthstone
Hearthstone Schedule will be updated as soon as the tournament gets underway at 1pm this afternoon.
Dota 2
Due to some minor tech issues we're still struggling to stream any of the Dota2 tournament we're hoping to give this another go today and hopefully get some of the matches out to you. Further updates on this will be announced as and when we can. Thanks
Page 5 of 65