Come along to a Grosvenor Casino near you to watch the Dota2 TI8 finals unfold with the rest of the UK Dota community.
We have three locations lined up for you across the UK, Newcastle-upon-Tyne, Manchester (Didsbury) and Reading South, each one with a big screen and food and drink available from the bar throughout the screening. Free parking is also available at each venue.
The events are free to attend, just come along with your best salty Dota memes and some ID to show that you are over 18 (sorry, rules are rules).
epic.LAN is always proud of the casting teams it offers for it's events and this event is no exception. We have got an exciting range of fresh faces and seasoned talent on the cards for epic.SIXTEEN - So check it out!
Our friends at GT Omega Racing have confirmed today that they will be supporting the epic.SIXTEEN Dota2 tournament this October.
Thanks to their kind support, the Dota2 tournament now has a minimum guaranteed prize pool of £1k, with all other prize triggers increased, up to a possible maximum of £4k.
You'll also be able to check out the GT Omega Racing chairs on our Dota2 stream where our casters will be showing off the awesome chairs throughout the event.
So if you're looking for a new gaming chair, make sure you go and check out what they have to offer and give them a follow @GTOmegaRacing on Twitter.
The final four teams have now been selected for our EGX DOTA2 Challenge, sponsored by SCAN Computers.
Winners of the first June Heats: UK Rejects
Winners of Julys Heats: XENEX
epic.FIFTEEN qualifiers: CHOKE Gaming
Winners of Augusts Heats: Barry Li Fanclub (BAZ)
We will see the above four teams in action live from EGX in September - All teams have secured themselves not only access to the tournament but also thanks to EGX they will all also recieve full weekend passes so they can check out and enjoy the event!
But the pressure is on now, as all four teams look to prepare themselves for the finals which will take place on the 27th of September. Stakes are high with over £1000 with of SCAN Credit up for grabs!
More details to follow soon!
This is it guys the last day of LAN *sad face* but that mean's it's finals day for our eSports Tournaments. Here are our Streaming Scedules for the games.
CS:GO - Choke Vs CAZ eSports
Our CS:GO Final Starts at 11am and can be viewed on our Twitch Channel
DotA2 - Choke Vs Dae 4 lyf
Our Dota2 Final starts at 9am and can be viewed on our Twitch Channel
LoL - fm-eSports Vs Team Infused
Our League of Legends final starts at 10am and can be viewed on our Twitch Channel
SC2 - Boombox Vs Aicy
Our Starcraft 2 final starts at 11am and can be viewed on our Twitch Channel
Day 2 at epic.FIFTEEN and here are our streaming schedules for the day you can watch all our streams from the event at our Twitch Channels.
CS:GO
Choke Gaming Vs fish123 - 11am
Lower Bracket Semi-Final - 2pm
Upper Bracket Final - 4pm
Consolation Final - 9pm
Dota 2
Rasta A OWL v DAVE - 11AM
DAE 4 LIFE v CHOKE - 3PM
LOWER BRACKET FINAL - 7PM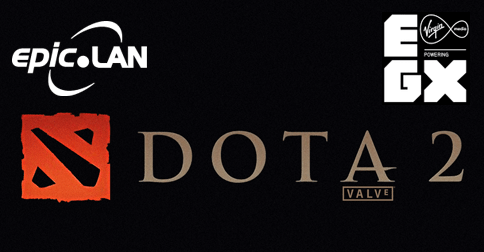 Following on from last year's successful Dota2 Challenge at EGX, we're pleased to confirm that epic.LAN will be hosting an even bigger tournament in the build up to this September's main event.
Four teams will once again have the opportunity to face off at the UK's biggest games event in Birmingham by competing in a series of monthly online heats between now and August. The winning teams from each heat will earn EGX Super Passes, giving access to all 4 days of the show to experience that everything EGX has to offer, with the Dota2 grand finals taking place on Sunday 27th September for even more prizes.
In addition, the winning team from this July's epic.FIFTEEN LAN event in Kettering, will qualify straight through to the EGX finals to join the winners of the monthly heats.
To sign up for the first of the monthly heats, head over to egx2015.epiclan.net to create your team.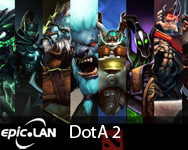 Here is todays casting schedule for our DOTA2 tournament:
13:30: Smedley Vs J+4
15:00: Lower bracket semi finals
19:00: Upper final runner Vs lower consolidation winner
Catch all the action on our DOTA2 Twitch Channel and on our dedicated tournament website.
We quickly run through the results of the eSports tournaments at epic.FOURTEEN up to the end of Friday night, covering group stages and any played elimination stages
One thing that epic.LAN has always been proud of is its caster lineups! To kick start epic.FOURTEEN we are pleased to introduce a fantastic team of casters some of whom you will recognise and some new comers to the scene!
Tom "Gumpster" Gumbleton epic.LAN eSports Manager explained;
"I feel that we have built a rather good casting line up with naturally talented experienced casters a long with some rather unique up & coming casters in their respective scenes.
With the addition of having the usual two casters for some games we have three casters to help aide our casting team throughout the event with breaks and give the audience a natural blend of variety and stability. Hopefully these guys can entertain the audience as much as they have entertained me over the last few weeks"
Read more to see the full lineup and sneak peek video!
Page 1 of 2