This is it guys the last day of LAN *sad face* but that mean's it's finals day for our eSports Tournaments. Here are our Streaming Scedules for the games.
CS:GO - Choke Vs CAZ eSports
Our CS:GO Final Starts at 11am and can be viewed on our Twitch Channel
DotA2 - Choke Vs Dae 4 lyf
Our Dota2 Final starts at 9am and can be viewed on our Twitch Channel
LoL - fm-eSports Vs Team Infused
Our League of Legends final starts at 10am and can be viewed on our Twitch Channel
SC2 - Boombox Vs Aicy
Our Starcraft 2 final starts at 11am and can be viewed on our Twitch Channel
Day 2 at epic.FIFTEEN and here are our streaming schedules for the day you can watch all our streams from the event at our Twitch Channels.
CS:GO
Choke Gaming Vs fish123 - 11am
Lower Bracket Semi-Final - 2pm
Upper Bracket Final - 4pm
Consolation Final - 9pm
Dota 2
Rasta A OWL v DAVE - 11AM
DAE 4 LIFE v CHOKE - 3PM
LOWER BRACKET FINAL - 7PM
Dota 2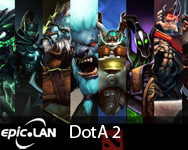 It's the first day of our tournaments and our Dota 2 stream schedule is as follows:
11:00 Dae 4 Lyf v Two Mangoes Please
12:15 Dowderz Dream Stack v King dave has a subaru
13:45 Soup's Jabronis v Rasta A Owl
15:00 Under ctrl v Choke Gaming
16:30 Choke Gaming v Rasta A Owl
You can catch all our Dota 2 action on our Twitch Stream throughout the day with our casters Steven "rusts" Holmson and Joe "QuesTextDota" Sealey you can Tweet them @Rustsandstuffs and @QuesTextDota
League of Legends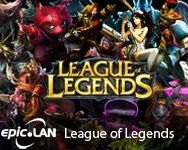 Our LOL Streaming schedule is as follows and will be available to watch on our Twitch Stream.
Round 1: GiM White vs FM eSports @ 11
Round 2: FM eSports vs Wawa Diamond Yet? @ 12:30
Round 3: FM eSports vs Team Infused @ 14:00
Round 4: GiM White vs Wawa Diamond yet? @ 15:30
Round 5: Wawa Diamond Yet? vs Team Infused @ 17:00
Our games will be cast by Joe "Munchables" Fenny - @MunchablesLoL and Jackson "Osigalas" Walters - @Osigalas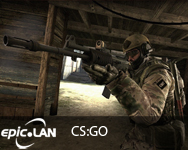 After a bit of a delay yesterday, for which we apologise, we are back on track with our CS:GO tournament and here are todays matches.
11am: TLR Vs 13bastards
1pm: Winner of TLR/OBSCENE/Crisp
4pm: Upper Final
7pm: Lower Consolidation

Stay tuned to our CS:GO Twitch Channel for our featured matches and all the coverage from todays games on our tournament site!
We quickly run through the results of the eSports tournaments at epic.FOURTEEN up to the end of Friday night, covering group stages and any played elimination stages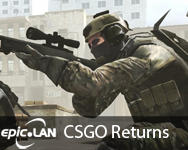 It was touch and go for a while, after the lower than expected numbers at the last event, we've been thinking very carefully about CS:GO for epic.FOURTEEN.
Over the past few weeks though, we've been bombarded with requests for CS:GO to be included in the tournament lineup, so we're happy to oblige!
So to all those who've been asking us to keep it in the lineup recently, make sure you now show your support and grab your ticket for the event and show us that the community really wants the game to continue at epic.LAN!
epic.THIRTEEN has seen slightly smaller than usual, but no less competitive tournaments. We featured League of Legends, DotA 2, Starcraft 2, CS:GO and Hearthstone. We'd like to thank the sponsors for providing prizes for all the tournaments for this event and our thanks go out to Razer, AOC, ESL, Gamdias, GT Omega and Tesoro.
News just in from our friends at ESL UK!
The commentary line-up for the AOC CS:GO Challenge has been announced, seeing Richard Lewis, Henry Greer, Karam Kabbara, Alex Richardson and James Duffield converge for epic.THIRTEEN.
The AOC CS:GO Challenge at epic.LAN is shaping up to be one of the UK's best BYOC CS:GO tournaments of 2014. With up to £4,000 on the line, our partners at ESL UK are pulling out all the stops, bringing you five star coverage throughout the weekend.

They're bringing it all to epic.LAN on Friday 17th July, seeing on-site camera crews, casting desks and analysis live from the ESL UK Studios. So what are you waiting for? Join the buzz and get your ticket now!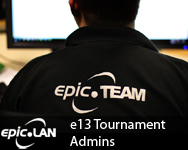 So epic.THIRTEEN is just around the corner.... no really it is! We're all looking forward to the July event and to make sure we have all the tournaments running in an orderly fashion we have a full line up of Admins joining our tournament team this event and they are:

for League of Legends:
Stuart 'Valgar' Bridges
Carl 'Roden' Roden
for CS:GO:
Mike 'Dollon' Sargeant
Richard 'Fenrir' Hillier
for DotA 2:
Jacob 'TheKenwyne' Lawton
for Starcraft 2:
Ben 'Kane' Knight
Chris 'Tetcher' Ivermee
Don't forget to grab your ticket now to be a part of the tournaments at epic.THIRTEEN. Already have your ticket then sign up to your tournament here!
It was a long day of finals here at epic.TWELVE, though I think it would be fair to say that everyone had a good time including the admins and casters. So on to the winners:
League of Legends Sponsored by Astro.
Winners: FM RaiderZ
Runners Up: Team Infused
CS:GO
Winners: Team CRG
Runners Up: The Lovely Men
ESL Dota 2 Challenge
Winners: Dwayne 'The John' Rockson
Runners Up: So LeJit
Starcraft II
Winners: Ourk (FM)
Runners Up: Rotcod (TLR)
Page 1 of 3