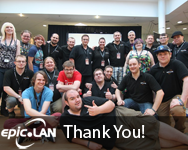 Well that's epic.THIRTEEN all over with, the team is all back home and packed down and already looking at your feedback to see how we can make our next event even better.
Please keep sending in your thoughts, in the following ways:
Don't forget to check out all of our coverage as well, see if you can spot yourselves in any of our photos or YouTube videos. We'll have some tournament VODs available soon over the coming few days.
Remember, epic.FOURTEEN may be next year, but tickets are already going fast. Save yourselves £10 if you book before 30th September!
Thank you all for coming to epic.THIRTEEN, see you next time!
epic.THIRTEEN has seen slightly smaller than usual, but no less competitive tournaments. We featured League of Legends, DotA 2, Starcraft 2, CS:GO and Hearthstone. We'd like to thank the sponsors for providing prizes for all the tournaments for this event and our thanks go out to Razer, AOC, ESL, Gamdias, GT Omega and Tesoro.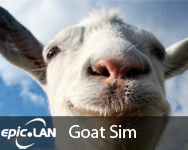 So today at epic.THIRTEEN we saw a Goat Sim tournament... see we really weren't 'kidding' around....
The competitors went up against each other in groups of 4 and to go through they had to score as many points as possible in 5 minutes. The competitor with the most points went through to quarter finals and so on to the final which changed slightly in that instead of playing on the standard map they played a game of Goat Hockey where they had to score as many goals as possible in 5 minutes.
The spectators seemed to really enjoy it and we think it was a mad but fantastic idea.
Congratulations to Matty2050 who took the title of Goat Sim Tournament winner. You have some fab goodies from ASTRO Gaming!

Sounds like the heatwave is with us for the next few days, so it's going to be warm at epic.THIRTEEN. The event does have air conditioning in all rooms we're using, however, those of you that have worked in server rooms/data centres will know that you need some serious aircon to cool a few hundred PCs, and that's not what the venue is designed for, and it would cost thousands of pounds to hire in proper aircon that could cope (which of course would all go on to ticket costs). So please bear in mind the following points to help us keep the LAN as cool as possible during the event:
In most cases the aircon is for the room as a whole, so some of you may be located closer to the fans than others and you may get a bit chilly, please bear in mind that we'll have to make some decisions for the room as a whole to stop people and machines overheating.
Sometimes you'll see us closing doors to cool rooms down, that may not make sense at the time, but the air conditioning is designed to cool that particular room, if the doors are open, then it will be working overtime to cool the adjacent rooms too.
Be sensible with what you're wearing! If you're sitting in jeans and a jumper all weekend, then you're going to get toasty, time to get the shorts out!
Drink plenty of water! Even though the bar is open, make sure you have plenty of non-alcoholic and non-energy drinks to keep you hydrated.
Showers...(not saying anything more!)
Desk Fans - We will permit small desk fans on a one per table basis (not per person), but if we do suffer from any power issues, we may have to reverse this position. There is no limit on USB fans.
Turn your machines off when not in use - It would help to bring down the residual temperature if you shut your machines down if they're not going to be in use for a long period of time, e.g. overnight when you go to bed.
If everyone plays their part, we should be able to keep things bearable for you all!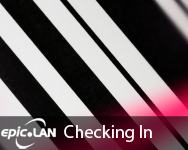 It's that time, epic.THIRTEEN is nearly upon us, so here are some last minute tips to help speed up check-in at the event:
Ensure any voucher codes have been allocated to the correct participant
Print your barcode booking pass (yes it's fine to bring it on a phone/tablet device etc.)
If you are in the official tournaments, ensure that your team has signed up in full to the tournament system by 8pm Thursday.
If you are planning on paying for a participant place on the door (if there are spaces remaining), please create a booking on the system in advance, it's still fine to pay on the door (though seats aren't guaranteed), but will save time on the day.
Remember, the doors open at 4pm, if you arrive any earlier, we'll ask you to wait in the downstairs bar (open from 2pm) until we are ready for you.
On another note, please make sure you update your games before you attend to help us save bandwidth at the event.
See you on Thursday! And don't forget to go through our handy checklist while you're packing to make sure you don't forget anything!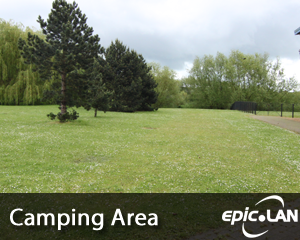 We've been informed by the venue that a part of the grassed area we use for camping will not be available for epic.THIRTEEN due to another event taking place on the Saturday.
Basing space on last year's July event which had a similar number of tickets sold, we do not expect this to be a major issue as long as everyone takes a fair and sensible amount of space when camping. We expect the camping to spread closer to the road and footpath, so as always we recommend that you don't leave anything in your tents unattended.
So we'll need you to pitch tents neartly in to rows (we'll put a member of staff out there at the start of the event to get them started) and we'll have to ask that you just bring the tents you need, no big gazebos/marquees etc.
Alternative sleeping is available indoors (free of charge) as well as through on-site dormitories and local hotels.


We're pleased to confirm that MSI Notebook UK, Kingston Technology and In-Win will all be exhibiting at epic.THIRTEEN showing off their latest technology. All three companies will be based in the Gallery, so make sure you go and take a look at what they have to offer and join in some of the activities taking place on their stand over the weekend.
If you haven't booked your ticket yet, there's still time, with spaces left in all rooms, so go ahead and book your space now!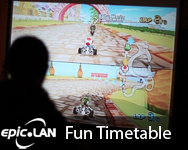 The epic.THIRTEEN big game and fun tournament timetable is now up for you to have a butchers at! Make sure you get all the games you can and get them installed and up to date before you come to LAN. Not long to go now only 3 weeks!! yep really just 3 weeks! If you haven't got your ticket yet what are you playing at, there are social and tournament seats available so grab yours now to join in with all the fun and games.
See you @ LAN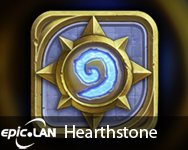 With the huge popularity of the Blizzard digital card-game, Hearthstone, we'll be hosting a fun tournament at epic.THIRTEEN, as well as adding in a seating area for Hearthstone in Fair Isle to make it easier for people to find their fellow heroes.
It's likely that we'll run the matches later on in the evenings, so people can still take part in other tournaments during the day, followed by some casual Hearthstone in the evening.
If there's plenty of interest, we're hoping to at least sort out some hardware prizes for the tournament if not more! So make sure you grab your epic.THIRTEEN ticket and sign up to the Hearthstone tournament now!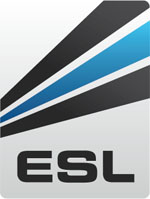 ESL UK partners with epic.LAN for the thirteenth instalment of their gaming and eSports LAN series. As part of their partnership, ESL UK will be boosting the prize pool through their partner network by £1,000 in a bid to help stimulate development within the UK's Counter-Strike gaming community. ESL UK will be providing full coverage of the Counter-Strike: Global Offensive competition, alongside the event as a whole throughout the weekend.

Peter Mather, Community Manager for ESL UK commented saying:
"We're really excited to be solidifying our partnership with epic.LAN after a fantastic event back in February. We've got some awesome plans in development for the next instalment to help bring the event live to your living rooms, and really add some extra value for the talented sides that will be joining us throughout the weekend. The team over at epic.LAN are amazing to work with, and I'm sure that this partnership will see us bringing one of the best UK Counter-Strike competitions to date!"
The competition will feature a minimum prize pool of £1,000, with the possibility of expanding to £4,000 based on community interest.
Jon Winkle, Managing Director of epic.LAN stated:
"Following on from the success of the Dota2 challenge at our last event, and with the current growth of CS:GO, we're very excited to partner with ESL UK once again for epic.THIRTEEN this July. With the boost in the prize pool and the exciting coverage plans, the tournament is certainly going to be one to watch in the UK and beyond."
Teams that wish to take part in the tournament need to head over to www.epiclan.co.uk/epic13 to purchase their event tickets, allowing them entry to the three day event alongside the eSports tournaments that are due to take place over the extended weekend.
Page 1 of 2